Upcoming


Industry-Sponsored Activity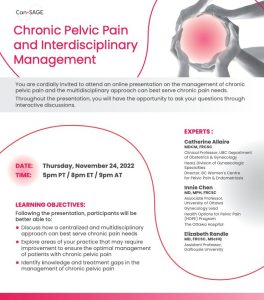 Thursday, November 24, 2022


8:00 to 9:00 pm ET

(postponed from Friday, Sept. 23 due to Hurricane Fiona)

Integrated care for CPP, experience from coast to coast
Dr. Catherine Allaire
Dr. Innie Chen
Dr. Elizabeth Randle
Ms. Allison Clarke
---
Industry-Sponsored Activities
held in Halifax

Thursday, Sept. 22
7:00 am – 7:45 am (during breakfast) – Room C3 & C4


VNOTES – Hysterectomy and Beyond
Dr. Minhea Gangal
An in depth look at surgical technique, literature, tips and tricks as well as applications beyond hysterectomy.
---

Thursday, Sept. 22
11:30 am – 12:30 pm (during lunch) – Room C3 & C4


Introducing the Accessa Procedure to Canada – A panel discussion
Dr. Bruce B. Lee, Inventor of the Acessa Procedure (Newport Beach, CA)
Dr. Darrien Rattray (Regina, SK)
Dr. Andre Laroche (Toronto, ON)
---

Friday, Sept. 23
THE HOLOGIC FUN RUN – Meet at 6:00 am


Departure: 6:15 am
Duration: 30 minutes
Meet in the Sutton Place Hotel lobby (in front of the check-in desk) at 6:00 am.
---

Friday, Sept. 23
7:00 am – 7:45 am (during breakfast) – Room C3 & C4



Less is More:
How low pressure can lead to improved patient outcomes and reduced length of stay in hospital
Dr. Kathy Huang
---
Support from these organizations furthers the vital research performed by our members and helps enhance gynecological health across Canada and around the world.